Akala Says Travel Ban on 50 High-Profile Nigerians Not Political as SERAP Describes it 'Illegal, Repressive'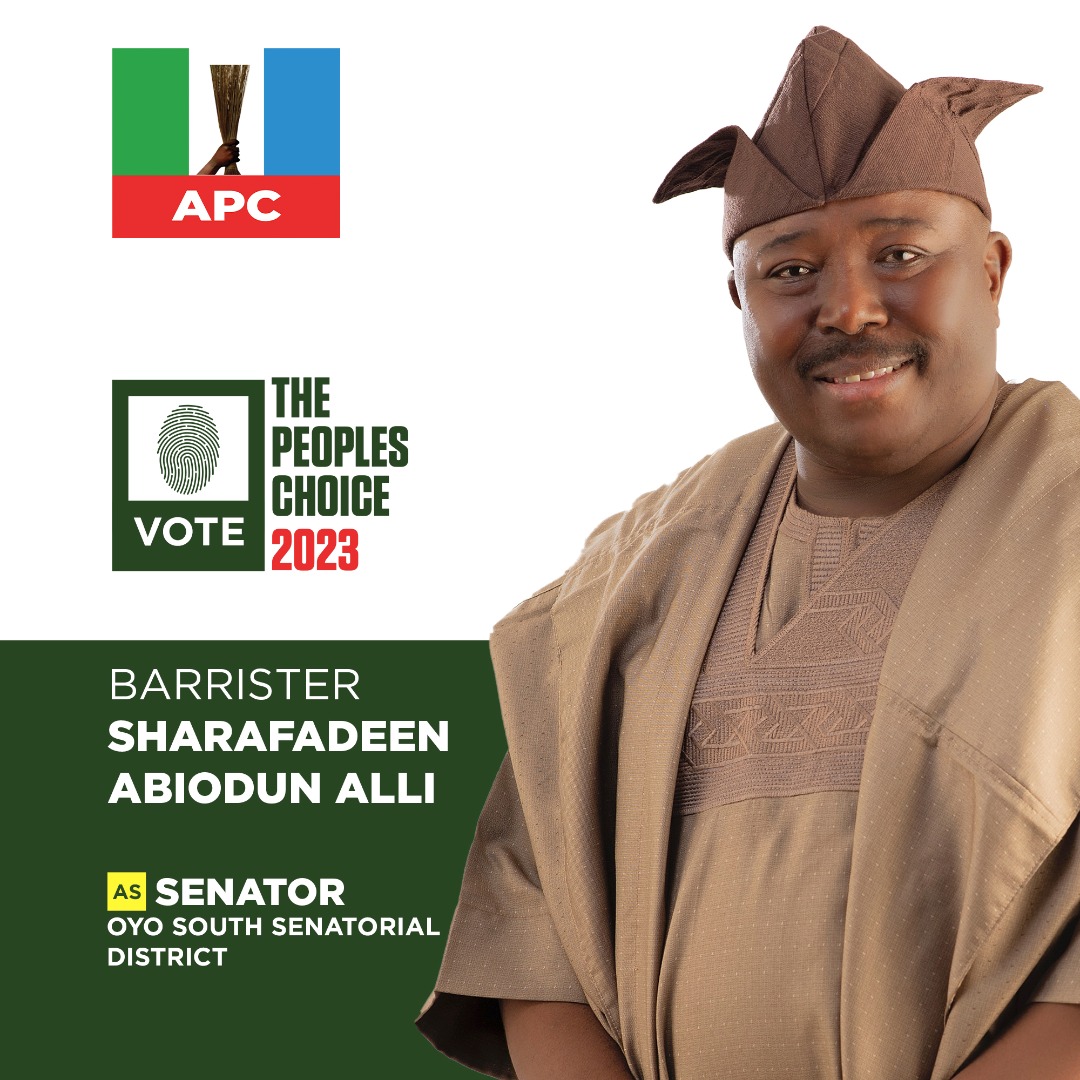 By Adams Akorede
Notwithstanding listing of his name among the 50 high-profile corrupt Nigerians banned from travelling abroad, a former Governor Adebayo Alao-Akala of Oyo state has told his supporters to remain calm and focus on the forthcoming governorship election in 2019.
The former Governor who doubles as the flagbearer of Action Democratic Party (A.D.P) in the 2019 governorship election, described the recent announcement of an executive travel ban on about 50 high profile Nigerians as not politically motivated.
Alao-Akala who recently defected from the ruling APC said in Ogbomoso on Sunday that "it is normal for government to carry out its responsibilities as prescribed by law and that there is nothing special or political about it."
Otunba Alao-Akala was quoted to have made the remarks while playing host to members of Olaiya support foundation led by Prof. Abideen Olaiya his running mate in the 2019 Governorship election who also doubles as the chairman of the foundation with membership drawn from across the 33 local government areas of Oyo state who were on a  solidarity visit to his Ogbomoso country home to pledge their total commitment and dedication to the Akala /Olaiya 2019 Mandate.
He assured the people of Oyo state of a Masses Oriented, People centred adminstration during his four year tenure as Governor of Oyo state beginning from May 29, 2019.
The former Governor who oversaw the affairs of Oyo state between the year 2007 – 2011 said his primary mission is to return smiles to the faces of the people of Oyo state through developmental projects that will have direct impact on the lives of the citizenry.
According to him, any responsible and responsive government should prioritize it's actions and fashion it out in a way it cater for the needs and aspirations of it citizens.
He continued: "That is why there is what we call opportunity cost in micro-economics theory. Our own adminstration cannot afford to trade with the Joy and happiness of the masses, we will prioritize our actions and place premium on developing human capital. An hungry man is an angry man," Alao-Akala said.
Earlier, a Socio-Economic Rights and Accountability Project (SERAP) has said that "The order banning 50 alleged high-profile corrupt Nigerians from travelling abroad without any legal basis and a judicial authorisation is clearly arbitrary, repressive and illegal, as it breaches constitutional rights and the country's international obligations, which protect the rights to freedom of movement, to leave one's country, to privacy, and to due process of law."
The organization in a statement on Sunday, copy of which was made available to Pacesetter News said: "A travel ban by its nature is an interference with the right to leave one's country. It is neither necessary nor proportionate to prevent dissipation of stolen assets or stop politically exposed persons (PEPs) from tampering with any such assets. The ban should be immediately lifted and the order rescinded."
Presidential spokesperson Garba Shehu had on Saturday announced the placement of 50 high-profile Nigerians on travel ban, citing the measure as part of the implementation of Presidential Executive Order Number 6. The unnamed individuals will be banned from travelling outside the country pending the determination of their corruption cases in order to ensure that all assets within a minimum value of N50 million or equivalent, are not dissipated or tampered with.
But SERAP in a statement signed by its deputy director Timothy Adewale said: "Rather than performing its declared objective of preventing dissipation of stolen assets, the travel ban would seriously undermine the government's expressed commitment to combat grand corruption and violate the country's international human rights obligations. The travel ban will play right into the hands of high-profile corrupt officials by feeding into the narrative that the fight against corruption is targeted only at political opponents."
The statement read in part: "The travel ban and mass surveillance will distract the authorities from taking legitimate action to recover stolen assets, effectively punish high-ranking corrupt officials and portray the government as unwilling to embrace the rule of law in its fight against corruption, thereby making it difficult to obtain the necessary support and cooperation of countries keeping stolen assets."
"The travel ban will also strain the government's relationships with partner countries, on whom it will inevitably rely for vital asset recovery cooperation, undermining the effort to bring them closer. By alienating these partners, the government could lose access to important information and mutual legal assistance necessary to effectively recover stolen assets and bring corrupt officials to justice."
"Judicial affirmation of the legality of the Executive Order 6 doesn't grant the government arbitrary powers to impose travel ban on anyone without following due process of law. Rather than imposing a travel ban, the authorities should take advantage of the provisions of the UN Convention against Corruption to seek mutual legal assistance with countries where investigations and litigation are ongoing by requesting them to apply preventive measures regarding assets covered by the travel ban."
"The authorities should also widely publish the names of the 50 Nigerians suspected to be involved, and submit those names to the countries/embassies of countries where the stolen assets are stashed. The authorities should issue a risk alert on alleged corrupt assets that are likely to be dissipated or tampered with by the high-profile Nigerians, seeking the cooperation of countries keeping the assets, and reminding them of their international obligations to prevent these Nigerians from tampering with stolen assets that are subject of ongoing investigations and litigation."
"We are concerned with the threats grand corruption and money laundering posed to the effective enjoyment of human rights of Nigerians, and agree with the authorities that grand corruption and impunity of perpetrators must be vigorously combated. But we believe that the fight against corruption will only succeed if it is based on due process of law and respect for human rights."
"If the objective the government seeks to achieve is to ensure stolen assets are not dissipated or that politically exposed persons do not interfere with ongoing investigation and prosecution of corruption cases, the appropriate legal response is for the authorities to pursue orders of temporary forfeiture and mutual legal assistance, and not a travel ban that would achieve nothing but violate citizens' human rights."
"Nigeria is a state party to the International Covenant on Civil and Political Rights, which in article 12 guarantees the right of everyone to leave any country, including their own. The government cannot impose restrictions on this right unless any such restrictions are provided by law, are necessary to protect public order, or the rights of others. The travel restrictions on the alleged 50 corrupt Nigerians clearly do not meet these conditions."
"All restrictions on the right to leave must be narrowly interpreted. In General Comment No. 27, the Human Rights Committee stated that any restrictions must not impair the essence of the right and that the relationship of the norm to the exception must not be reversed."
"The travel ban cannot achieve the objective of depriving the 50 Nigerians suspected of corruption of their ill-gotten gains. It is absolutely important that the government is guided by the provisions of Article 31 of the UN Convention against Corruption to which Nigeria is a state party, and which authorises states parties to take preliminary measures to seize, freeze or otherwise immobilise property for the purposes of confiscation/pending investigation and litigation."
"It is always important that the definition and interpretation of the law should be as certain as possible, and this is of particular importance in cases of corruption where citizens' human rights may be at stake. We do not consider that such reasonable certainty can exist where the executive assumes patently judicial functions."
"The right to leave one's country includes a positive duty on states such as Nigeria to issue documents – as well as a passive one – to refrain from placing obstacles in the way of an individual seeking to leave."