Oyo State recorded four new cases of COVID-19, bringing the total number of infections to 69. Despite the little spike, the state maintains its 14th position on the national COVID-19 log.
According to the Nigeria Centre for Disease Control (NCDC) on Tuesday, Oyo State recorded four fresh cases of COVID-19 out 146 cases recorded in Federal Capital Territory and nineteen states.
Data obtained by the Pacesetter News from the NCDC website show that: 28, 418 Samples Tested so far; Confirmed Cases stands at 4,787; Active Cases is 3,670; Discharged Cases 959; and 158 Deaths have been recorded across the country.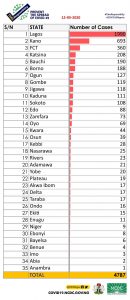 Further check by the Pacesetter News revealed that Oyo State has 51 confirmed cases on admission at various isolation centres.
The following is the breakdown of the 146 new cases as at 11.54pm, Wednesday 12th May 2020.
57-Lagos       27-Kano     10-Kwara
9-Edo              8-Bauchi     7-Yobe
4-Kebbi           4-Oyo          3-Katsina
3-Niger            2-Plateau   2-Borno
2-Sokoto         2-Benue      1-Gombe
1-Enugu          1-Ebonyi      1-Ogun
1-FCT              1-Rivers