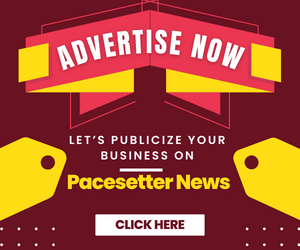 By Yakubu Temitope
The dust generated by the recent gubernatorial primary of the ruling All Progressives Congress (APC) in Oyo state is yet to settle as a frontline aspirant, Chief Niyi Akintola, SAN who reluctantly stepped down for the eventual winner, Mr. Bayo Adelabu, asked those spreading rumours of his imminent exit from the 'progressives bloc' to pick either governorship or senatorial ticket of another party to perish the thought!
Akintola has therefore described the insinuations gaining currency that he had accepted the offer to flag another party's ticket for elective office in 2019 as the handiwork of busy bodies.
According to a correspondence exclusively obtained by Pacesetter News, Akintola wondered why some unnamed individuals were crying more than the bereaved.
His position in the said letter was later corroborated by his media assistant, Ayodele Olaitan who said: "please, take my words, Chief Adeniyi Akintola SAN, remains in APC, he has been in the progressive movement all through his political life, even in the face of death, noting can change his political orientation as a progressive minded politician.
"Chief Adeniyi Akintola SAN did not obtain any political party nomination form for any elective office. Please ignore the rumour," Olaitan added.
Chief Akintola himself had earlier written to his associates as follows: "Just now I got a call from my respected compatriots, Senator Teslim Folarin and Dr Fola Akinosun seeking confirmation from me over my "purported" Senate ambition. I wouldn't know why anyone would want to shave my head behind me. I have not obtained Senatorial form of any political party nor entered into any pact for political alliance with anyone.
"I have set for myself a standard of political behaviour below, which I can never descend no matter the circumstances. I had invested so much of my energies, intellectual and professional resources into the progressive family set up. I cannot take a unilateral decision on my next political steps without wide spread consultations with the gate keepers of progressive ideals. Yes the last one week has been traumatic for me.
"I have been approached by various interest groups and political parties with offers of Oyo South Senatorial ticket. Some budding political parties offered their Governorship tickets for free and at no costs to me but I have not given anyone or any political party my consent or approval.
"I am still a bona fide member of APC and besides, there are some characters I cannot associate with politically. Judging by my political antecedents and pedigree, people should appreciate this truism and even in my absence should vow for me. For those who have axe to grind with the political establishment in the state, I appreciate their constitutional rights to be aggrieved and freedom of movements but sad to say that I don't take panadol for someone else headache.
"Yes I have been wronged and betrayed to the point of perfidy but I have a principle that is very dear to me. In fact it is a concept called "Omoluabi" in Yoruba land. Our forefathers would say "Ore dao, iwona fe da ore, Odale adimeji". I would not allow the pernicious act of one to cross the lines against the noble ones.
"I appreciate all and sundry who have been trailing me in the last one week and even those that ignored me. You will all hear from me very soon and I will sure not disappoint you. The truth is that I have been out of the country since Wednesday and I am due back from Europe today. So long and God bless," Akintola maintained.